Yields: 6 servings Prep Time: 0 hours 30 mins Total Time: 1 hour 55 mins For filling 1 tbsp. butter 1/2 small yellow onion, chopped 4 cloves garlic, thinly sliced 1 small carrot, chopped 2 stalks celery, chopped 2 c. low-sodium chicken broth 1 tbsp. fresh thyme leaves 1 tsp. sweet paprika 1/2 c. heavy…
Yields:

6

servings


Prep Time:

0

hours

30

mins


Total Time:

1

hour

55

mins


For filling
1
tbsp.


butter
1/2
small yellow onion, chopped
4
cloves garlic, thinly sliced
1
small carrot, chopped
2
stalks celery, chopped
2
c.


low-sodium chicken broth
1
tbsp.


fresh thyme leaves
1
tsp.


sweet paprika
1/2
c.


heavy cream
3
c.


rotisserie chicken
1
c.


frozen green peas, thawed (optional)
Kosher salt
Freshly ground black pepper
For crust
2
c.


shredded mozzarella
4
oz.


cream cheese
2
large eggs, plus 1 egg beaten with 1 tbsp. water
2 1/2
c.


almond flour
2
tsp.


baking powder
Preheat oven to 425°. Make filling: In a large ovenproof skillet over medium-high heat, melt butter. Add onion, garlic, carrot, and celery and cook, stirring, until softened, about 7 minutes. 
Stir in broth, thyme, and paprika and bring to a boil. Let simmer, 5 minutes, until vegetables are tender. Stir in heavy cream and simmer until thickened, about 2 minutes. Add chicken and peas and toss to warm through and coat with the sauce, about 2 minutes. Season with salt and pepper. Remove from heat. 
Make crust: In a large microwave-safe bowl, melt together mozzarella and cream cheese. Add eggs and stir to combine, then stir in almond flour, and baking powder. Season with salt. 
Dollop crust mixture over the filling and smooth the top with a spatula. Using a knife, cut an X in the center of the crust, then brush with egg wash.
Bake until crust is golden, about 25 minutes.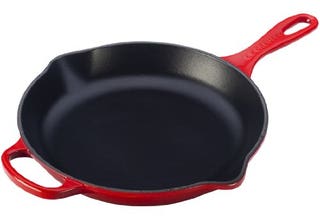 Le Creuset Signature Iron Handle Skillet, 11-3/4-Inch, Cerise (Cherry Red)
Le Creuset
amazon.com
$204.95
This content is created and maintained by a third party, and imported onto this page to help users provide their email addresses. You may be able to find more information about this and similar content at piano.io