Kate Sears Cal/Serv: 257 Yields: 6 Prep Time: 0 hours 15 mins Total Time: 0 hours 35 mins 3 slice whole-grain bread 1 lb. ground turkey 1/2 lb. lean ground beef whites from 2 large eggs 2 tbsp. minced dried onion flakes 2 tsp. Worcestershire sauce 1/4 tsp. each garlic powder and salt 1 package…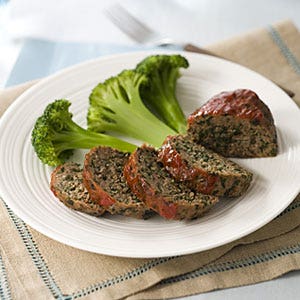 Kate Sears
Cal/Serv:
257
Yields:

6
Prep Time:

0

hours

15

mins


Total Time:

0

hours

35

mins


3

slice whole-grain bread
1
lb.

ground turkey
1/2
lb.

lean ground beef
whites from 2 large eggs
2
tbsp.

minced dried onion flakes
2
tsp.

Worcestershire sauce
1/4
tsp.

each garlic powder and salt
1

package frozen chopped spinach
6
tbsp.

ketchup
Heat oven to 425ºF. You'll need a rimmed baking sheet lined with nonstick foil.
Tear bread into food processor. Pulse to make coarse crumbs. Add remaining ingredients and 2 Tbsp of the ketchup. Pulse just until blended. Form into 6 loaves (5 x 2 1/2 in. each, about 1 scant cup per loaf) on lined pan.
Evenly spread tops with remaining 4 Tbsp ketchup. Bake 20 minutes until cooked through and instant-read thermometer inserted in center registers 160ºF.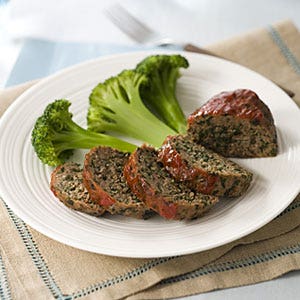 Kate Sears
This content is created and maintained by a third party, and imported onto this page to help users provide their email addresses. You may be able to find more information about this and similar content at piano.io