Parker Feierbach A lot of people talk about how much they miss bread on the Keto diet, but what about tortillas?! Without them, there are no quesadillas, no enchiladas, and definitely no cheesy taco casserole. These tortillas are sturdy enough to hold up to whatever you fill them with, and they're ready in under 30…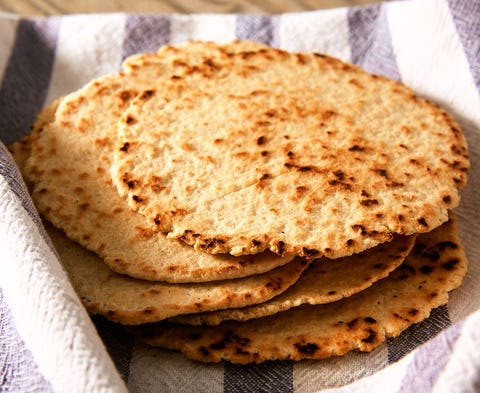 Parker Feierbach
A lot of people talk about how much they miss bread on the Keto diet, but what about tortillas?! Without them, there are no quesadillas, no enchiladas, and definitely no cheesy taco casserole. These tortillas are sturdy enough to hold up to whatever you fill them with, and they're ready in under 30 minutes. 
Made these? Let us know how it went in the comment section below!
Yields:

8
Prep Time:

0

hours

20

mins


Total Time:

0

hours

30

mins


1
c.


almond flour
1/4
c.


coconut flour
2
tsp.


xanthan gum 
1
tsp.


baking powder
1/2
tsp.


kosher salt
3
tsp.


lime juice
1
large egg, lightly beaten
1
tbsp.


water
Combine almond flour, coconut flour, xanthan gum, baking powder, and salt in the bowl of a food processor. Pulse for 5 seconds, until combined.
With the food processor running, slowly pour in lime juice, then egg, and then water, to the flour mixture. When dough comes together and forms a ball, empty it onto a piece of plastic wrap and wrap tightly. Knead the dough for a minute or two in your hands, then place in refrigerator to rest for 10 minutes.
Divide dough into 8 small balls, about 1 1/2″ in diameter. Place one ball between two pieces of parchment or wax paper and roll until it's about 1/8″ thick. (The tortilla should be about 5″ to 6″ in diameter.)
Heat a large cast iron skillet over medium-high heat. When hot, add tortilla and cook until slightly charred, about 20 seconds per side. While one tortilla is cooking, continue rolling out the next. Continue until all tortillas are rolled and cooked and serve immediately.
[mediaosvideo align='center' embedId='5b6960ec-ab61-4009-adc2-f3c50feb0d24′ mediaId='abea3eee-be8d-4008-9efd-68cb6e0cb414′ size="][/mediaosvideo][poll id='0e220c1b-0793-4a6a-99c7-4e4396b3f96e_cf44802db9895′ type='text' question='Which do you prefer?' answer1='Tacos' answer2='Quesadillas'][/poll]
Lena Abraham
Senior Food Editor
Lena Abraham is the Senior Food Editor at Delish, where she develops and styles recipes for video and photo, and also stays on top of current food trends.
This content is created and maintained by a third party, and imported onto this page to help users provide their email addresses. You may be able to find more information about this and similar content at piano.io