Mike Garten If you thought cold pizza made a great breakfast, wait until you try this egg and potato topped version. Yields: 8 Prep Time: 0 hours 10 mins Total Time: 0 hours 40 mins 1 5 oz. container baby spinach 1 c. marinara sauce 1 recipe Easy Homemade Dough (link in step 2), or one…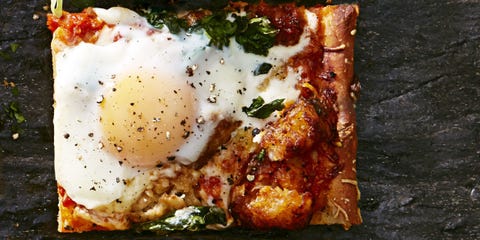 Mike Garten
If you thought cold pizza made a great breakfast, wait until you try this egg and potato topped version.
Yields:

8
Prep Time:

0

hours

10

mins


Total Time:

0

hours

40

mins


1

5 oz. container baby spinach
1
c.

marinara sauce
1

recipe Easy Homemade Dough (link in step 2), or one 1 1/2-lb. ball pizzeria dough
4
oz.

mozzarella cheese, shredded
4
oz.

extra sharp Cheddar cheese, shredded
8
oz.

frozen potato puffs (2 c.)
6

large eggs
Preheat oven to 475 degrees F. In large bowl covered with vented plastic, microwave spinach on High 2 minutes. When cool enough to handle, squeeze dry.
Spread sauce all over Easy Homemade Dough. Top with cheeses, spinach, and potato puffs. Bake 25 minutes. Top pizza with eggs, 2 inches apart; sprinkle eggs with 1/4 teaspoon each salt and pepper. Bake 5 minutes or until whites are set but yolks are still runny.
This content is created and maintained by a third party, and imported onto this page to help users provide their email addresses. You may be able to find more information about this and similar content at piano.io