Ethan Calabrese Hearty and healthy. BUY NOW: Le Creuset Dutch Oven, $369.95, amazon.com. Yields: 6 Prep Time: 0 hours 15 mins Total Time: 1 hour 15 mins 1 tbsp. olive oil 2 bell peppers, diced 1 yellow onion, chopped 2 stalks celery, diced 3 cloves garlic, minced 2 tsp. chili powder 1 tsp. smoked paprika…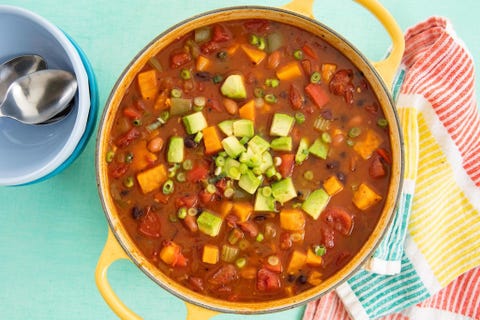 Ethan Calabrese
Hearty and healthy.
BUY NOW: Le Creuset Dutch Oven, $369.95, amazon.com.
Yields:

6
Prep Time:

0

hours

15

mins


Total Time:

1

hour

15

mins


1
tbsp.


olive oil
2
bell peppers, diced
1
yellow onion, chopped
2
stalks celery, diced
3
cloves garlic, minced
2
tsp.


chili powder
1
tsp.


smoked paprika
1
tsp.


cumin
1
tsp.


dried oregano
kosher salt
Freshly ground black pepper
1
(12-oz) bottle Mexican beer such as Modelo
1
large sweet potato, cut into 1/2″ cubes
1
(15-oz) can black beans, drained and rinsed
1
(15-oz) can pinto beans, drained and rinsed
1
(28-oz) can diced fire-roasted tomatoes
2
c.


vegetable broth
For topping
1
avocado, sliced
Lime wedges
thinly sliced scallions
In a large pot, heat olive oil over medium heat. Add peppers, onions and celery and cook until softened, 3 to 4 minutes. Add garlic, chili powder, paprika, cumin, and oregano and sauté until fragrant, 1 to 2 minutes more. Season with salt and pepper.
Add beer and cook until it has reduced by half, about 6 to 8 minutes, stirring occasionally. Add sweet potato, black and pinto beans, tomatoes and vegetable broth. Stir and bring to a boil, then reduce to a simmer and cook until slightly reduced and sweet potatoes are cooked through, 30 to 35 minutes.
Serve with the toppings of your choice.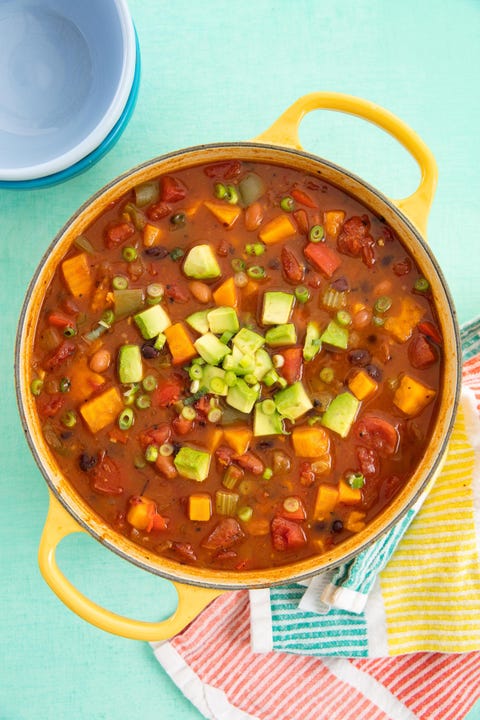 Ethan Calabrese
Lena Abraham
Senior Food Editor
Lena Abraham is the Senior Food Editor at Delish, where she develops and styles recipes for video and photo, and also stays on top of current food trends.
This content is created and maintained by a third party, and imported onto this page to help users provide their email addresses. You may be able to find more information about this and similar content at piano.io