Kana Okada Yields: 1 serving Total Time: 0 hours 22 mins 1 tbsp. canola oil 6 oz. scallops 6 oz. skinless salmon fillet 1 navel orange 2 tbsp. chopped fresh cilantro 1 tbsp. flaxseed oil 1/4 tsp. salt 1 c. baby spinach 2 tbsp. slivered, blanched almonds Set a nonstick skillet over medium-high heat, add…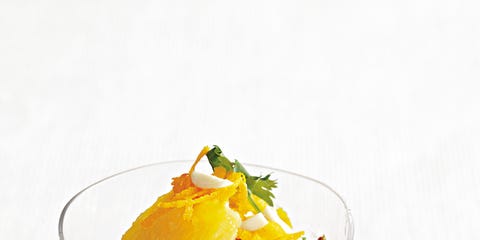 Kana Okada
Yields:

1

serving


Total Time:

0

hours

22

mins


1
tbsp.

canola oil
6
oz.

scallops
6
oz.

skinless salmon fillet
1

navel orange
2
tbsp.

chopped fresh cilantro
1
tbsp.

flaxseed oil
1/4
tsp.

salt
1
c.

baby spinach
2
tbsp.

slivered, blanched almonds
Set a nonstick skillet over medium-high heat, add 1 teaspoon of the canola oil, and heat until hot. Spritz or brush the scallops and salmon very lightly with the remaining canola oil. Place the salmon in the pan, surrounded by the scallops. Cook for 4 minutes, or until browned on the bottom. Flip and cook for 4 to 6 minutes more, or until the fish is opaque. Cooking time will vary with the thickness of the seafood. Remove the seafood from the pan until cool enough to handle. Add 1 tablespoon water to the pan. Swirl to loosen any browned bits.
Remove about 1 tablespoon orange peel strips with a citrus zester to use for garnish. Peel the orange and cut into small chunks. Place in a mixing bowl with the cilantro, flaxseed oil, salt, and pan juices. Cut the salmon and scallops into bite-size pieces. Add to the bowl. Toss.
Arrange the spinach on 4 appetizer plates or in shallow glass bowls. Top with the salad. Sprinkle with the almonds and the orange peel.
This content is created and maintained by a third party, and imported onto this page to help users provide their email addresses. You may be able to find more information about this and similar content at piano.io