Judy Kim This Italian-inspired pasta is stuffed with tons of cheesy goodness. Yields: 4 Prep Time: 0 hours 15 mins Total Time: 0 hours 45 mins 1 lb. ground beef kosher salt Freshly ground black pepper 1 clove garlic, grated 1 24-oz. can crushed tomatoes 18 oz. ricotta cheese 2 large eggs, lightly beaten Zest…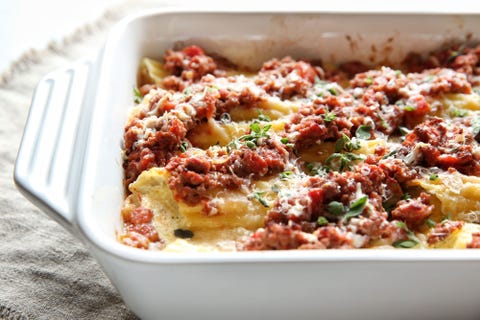 Judy Kim
This Italian-inspired pasta is stuffed with tons of cheesy goodness.
Yields:

4
Prep Time:

0

hours

15

mins


Total Time:

0

hours

45

mins


1
lb.

ground beef
kosher salt
Freshly ground black pepper
1

clove garlic, grated
1

24-oz. can crushed tomatoes
18
oz.

ricotta cheese
2

large eggs, lightly beaten
Zest of 1 lemon
2
tbsp.

chopped fresh oregano, plus more for garnish
2
c.

freshly grated Parmesan, divided
1

8-oz. package manicotti, cooked, drained, and cooled
Preheat oven to 375°.
In a sauté pan over medium-high heat brown ground beef; break up meat using a wooden spoon. Season with salt, pepper, and garlic; cook 1 minute. Add tomatoes; bring to a boil and simmer for 5 minutes. Keep warm.
In a large mixing bowl combine ricotta, eggs, lemon zest, oregano, and 1 cup Parmesan. Ladle a thin layer of meat sauce into a large casserole dish. Spoon ricotta mixture into each manicotti tube and place in casserole dish. Top with meat sauce and sprinkle remaining cheese on top.
Bake until cheese is melted and bubbly, 28 to 30 minutes. Garnish with fresh oregano and serve immediately.
Judy Kim
Judy Kim is a New York based food stylist, recipe developer, culinary producer and creative consultant.
This content is created and maintained by a third party, and imported onto this page to help users provide their email addresses. You may be able to find more information about this and similar content at piano.io